Gojiberries
(recipes)
Spinach salad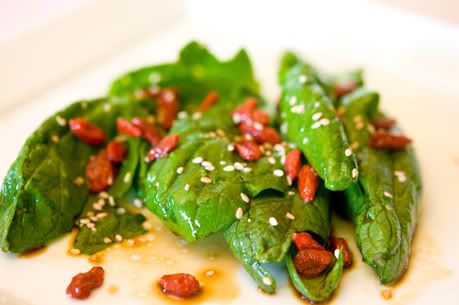 While all the peoplel drink their coffee and grab a sandwich for lunch, I snack on some dried fruit and wait patiently to go back home and eat. But if I haven't cooked anything the night before, I need to make something quick and nutritious. Like this salad for example. Spinach has a lot of iron and protein, while goji berries are filled with betacarotene, and protein as well. Sesame seeds are a great source of calcium while grapeseed oil is rich in omega-3. The taste ? Delicious. I also love the chewy texture of the goji berries in my salad!
-3-4 handfuls of fresh spinach
-1/4 cup dried goji berries
-2 tbsp shoya
-2tbsp grapeseed oil
-2 tsp rice vinegar
-1 1/2 tbsp raw sesame seeds for sprinkling
Wash spinach well and chop in desirable size. Pour oil and toss. Add goji berries and shoyu. Mix everything together and sprinkle with sesame seeds. Enjoy!
---
Sweet, slightly tart and packed with nutrients, goji berries add that tasty je ne sais quoi to these scones. These Himalayan treats contain numerous amino acids, trace minerals, protein and antioxidants. As if that wasn't enough, they also contain a significant amount of Vitamins A and C, B-complex vitamins, vitamin E and anti-inflammatory agents! Whew! That's a lot of nutrition packed into one tiny berry! Talk about bang for your berry.
I used rice flour to make these scones gluten free, canola oil and rice milk to make them vegan, and goji berries, cinnamon and pecans to make them delicious! They have a traditional scone texture, while also retaining the perfect amount of moisture. What a tasty and nutritious way to start any day!
Goji Berry Pecan Scones (Gluten Free and Vegan!)
Makes 6 medium/large scones
2c rice flour
1tbsp aluminum free baking powder
½ tsp salt
1 tsp cinnamon
¼ tsp cloves powder
¼ c goji berries
¼ c pecan pieces/chips
1/3 c canola oil
1/3 c agave nectar
1 tbsp vanilla extract
1/3 c rice, soy or almond milk
Preheat oven to 375 degrees F and line a baking sheet with parchment paper.
In a bowl, combine and mix together the dry ingredients (except for goji berries and pecans). In a separate bowl, beat together wet ingredients. Stir the wet ingredients into the dry and mix until just combined. The texture will be crumbly (this is normal!). Stir in goji berries and pecan pieces. Take a handful of dough and knead it together, shaping into a scone, and place on the parchment-lined baking sheet. If you notice the dough becoming too crumbly to form a scone, just add a splash of milk to the dough and continue to knead. After scones are lined up on the baking sheet, bake on the center rack for 20 minutes. Remove the scones promptly from the oven and let cool on a cooling rack. Enjoy

In order to reach and maintain optimum health and fitness, good nutrition is an essential part of any exercise regime. Skipping breakfast could slow down your metabolism, which could result in undesired weight gain.

A Goji Morning
• 2 scoop of vanilla whey protein powder
• 1 cup of skim milk
• 1/2 cup Tibetan Goji Berries (soak over night optional)
• ½ cup of low fat peach yogurt
• 1 tbs of flaxseed oil
• 1 tbs of safflower oil, pinch of cinnamon.
Blend for 2 minutes, and enjoy
---
OATMEAL GOJI COOKIES
* 2 cups all-purpose flour
* 1 teaspoon baking soda
* 1 1/2 teaspoons ground cinnamon
* 2 cups quick cooking oats
* 1/2 cup packed brown sugar
* 1/2 cup white sugar
* 1 cup canola oil
* 2 eggs
* 1/2 cup milk
* 1 teaspoon vanilla extract
* 1 cup walnuts
* 3/4 cup Tibetan Goji Berries
DIRECTIONS
1. Preheat oven to 375 degrees F (or 190 degrees C). Grease cookie sheets.
2. Put all ingredients except raisins (or chips) and walnuts in food processor. Mix well.
3. Put in bowl and add goji berries and walnuts, stir.
4. Drop by teaspoons onto greased cookie sheets. Bake for 12-15 minutes. NOTE: Can use parchment paper instead of grease on cookie sheet.
---

Goji Pancakes
1 1/4 to 1 1/2 cups flour
2 teaspoons baking powder
2 tablespoons sugar (optional)
3/4 teaspoon salt
1 1/2 cups milk
1 egg
2 - 3 tablespoons oil
1/2 cup Tibetan Goji Berries (soak over night)
Favourate fruit for topping

Mix the dry ingredients together, then add the milk and eggs. Mix well and try to get some of the lumps out of the batter. Don't worry about making it perfectly smooth. It will be fine.
Heat a skillet on medium heat. When heated, scoop the pancake batter recipe into the frying pan with a large spoon to make individual pancakes. The pan will probably only take 1 or two pancakes at a time. Cook on one side until the top begins to bubble, then flip over and cook on the other side.
Double Apple Goji Crumble
5 cups sliced peeled apples, such as Braeburn (about 2 pounds)

1/2 cup Tibet Goji Berries

3 tablespoons apple butter

Cooking spray

1/4 cup all-purpose flour

1/4 cup regular oats, uncooked

1/4 cup packed light brown sugar

1 teaspoon ground cinnamon

1/8 teaspoon salt

3 tablespoons chilled butter

1/3 cup chopped pecans
Preparation
1. Preheat oven to 375°.
2. Combine apples,berries and apple butter; arrange in 8-inch square baking dish coated with cooking spray, pressing down lightly to compact.
3. Combine flour, oats, sugar, cinnamon, and salt in a medium bowl; cut in butter using a pastry blender or 2 knives until mixture resembles coarse meal. Stir in pecans. Sprinkle mixture over apples. Bake at 375° for 45 minutes or until bubbly and golden brown

Seriously Orange,Cranberry,Goji Sauce
1/2 cup orange marmalade

2 tablespoons grated orange rind

1 cup fresh orange juice (about 2 oranges)

1/2 to 3/4 cup sugar (to taste)

1 (12-ounce) package fresh cranberries

1/2 cup Tibetan Goji Berries
Preparation
1. Combine marmalade and orange rind, and set aside.
2. Combine juice and sugar in a medium saucepan; bring to a boil. Add goji ,cranberries; return to boil. Reduce heat; simmer ntil cranberries pop and sauce begins to thicken. Remove from heat; stir in marmalade mixture. Cover and chill.
Chicken, Goji Vindaloo
1 pound boneless, skinless chicken thighs, cut into 1-inch cubes

2 tablespoons minced fresh ginger

1/4 cup rice vinegar

2 teaspoons ground coriander

2 teaspoons ground cumin

1 teaspoon ground cardamom

2 teaspoons chili paste with garlic

1/4 teaspoon ground cinnamon

1/8 teaspoon ground cloves

6 garlic cloves, minced

1 tablespoon canola oil

1 cup diced onion

1/2 cup Tibetan Goji Berries

1 diced red bell pepper

1 diced yellow bell pepper

1/2 cup fat-free, less-sodium chicken broth

3/4 teaspoon salt

1 tablespoon cornstarch

2 tablespoons water

1/4 cup chopped cilantro

4 cups cooked brown rice
Preparation
Combine first 10 ingredients (through garlic) in a zip-top plastic bag. Marinate in refrigerator at least 4 hours, turning occasionally.
Heat oil in a large skillet over medium-high heat. Add onion; sauté 4 minutes. Add chicken mixture and bell peppers,goji berries; sauté 5 minutes or until chicken is thoroughly browned on all sides. Add broth and salt; simmer, uncovered, 15 minutes or until chicken is done. Combine cornstarch and water in a small bowl; stir well. Add cornstarch mixture to chicken mixture; simmer 2 minutes or until sauce thickens. Stir in cilantro. Serve over rice.
---
GOJI BERRIES Brownies

1 1/2 cup flour
1 cup applesauce
1 cup light brown sugar
2/3 cup cocoa
1/3 cup goji berries, soaked in 3 tablespoons of water
1/4 cup oil
1 teaspoon vanilla
1 teaspoon baking soda
2 teaspoons baking powder
pink sea salt
Directions:
Preheat oven to 350. Grease and flour or spray an 8x8 inch baking dish. In a large bowl, beat together applesauce, oil, sugar and vanilla. Stir in flour, baking soda, baking powder and cocoa. Beat until well mixed then fold in the goji berries (with any residual water). Pour into prepared pan. Sprinkle with sea salt. Bake 25-30 minutes or until a toothpick inserted into the middle of pan comes out clean or with only a small, dry crumb attached.
---
Goji Rotini Recipes
*1/2-cup chopped onion
*16oz chopped broccoli
*16oz rotini pasta
*2 cloves garlic, minced
*1 24oz jar chunky garden pasta sauce
*1/4-cup goji berries
*Olive oil
*Salt and pepper
Boil rotini until al dente. Then drain
In large skillet sauté broccoli garlic and onion in a small amount of olive oil. Add in pasta sauce and simmer 5 to 10 minutes. Add in rotini pasta and goji berries season with salt and pepper.
Cook 5 to 10 more minutes until pasta and berries are tender.